Welcome to Stebbins Dental Studio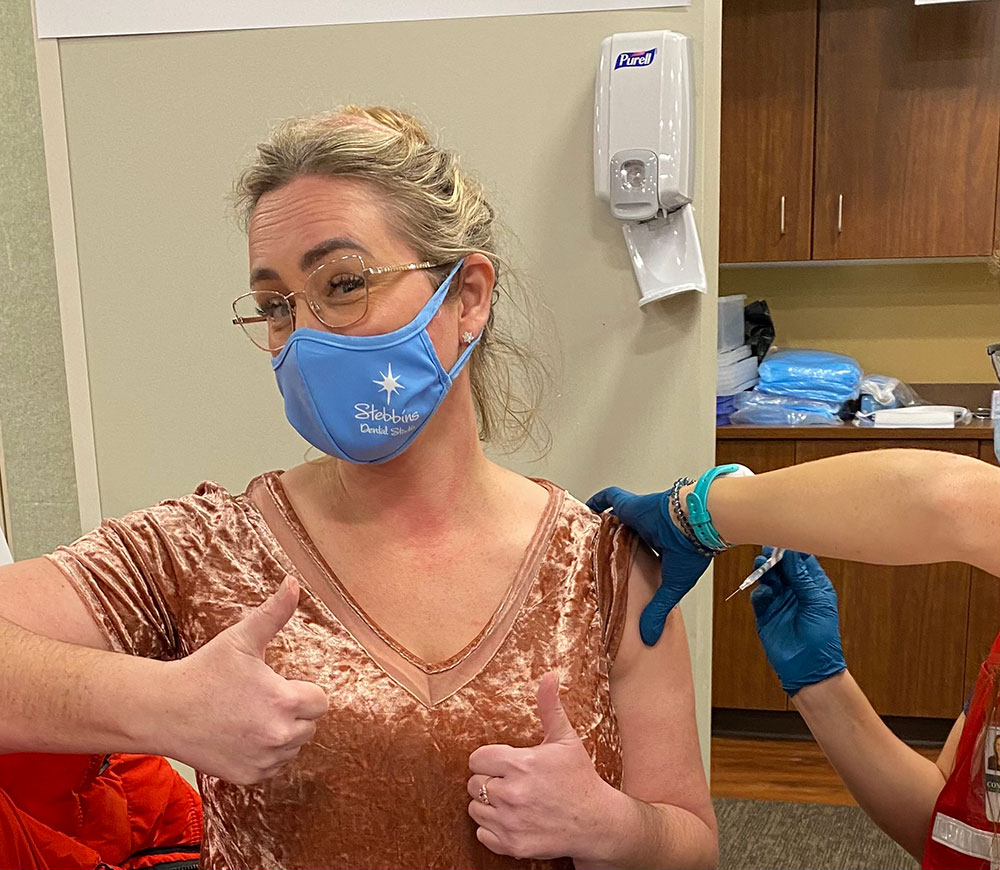 To the Patients of Stebbins Dental Studio:
We hope this letter finds you and your family in good health. Our community has been through a lot over the last year, and all of us are looking forward to resuming our normal habits and routines. While many things have changed, one thing has remained the same: our commitment to your safety. Pictured above is Dr. Stebbins receiving her first dose of the Pfizer Covid vaccine on December 17, 2020.
Infection control has always been a top priority for our practice and you may have seen this during your visits. We want to reaffirm that our office follows infection control recommendations made by the American Dental Association (ADA), the U.S. Centers for Disease Control and Prevention (CDC) and the Occupational Safety and Health Administration (OSHA). We follow the activities of these agencies so that we are up-to-date on any new rulings or guidance that may be issued. We do this to make sure that our infection control procedures are current and adhere to each agencies' recommendations.
You may see some changes when it is time for your next appointment. We made these changes to help protect our patients and staff. For example:
In compliance with the City of Whitefish requirements, we will require that you wear a face covering inside our building (excepting during dental treatment). You may bring your own mask or faceshield, or use one that we provide. If you are not comfortable wearing a face covering, we ask that you reschedule your appointment at this time.
We will ask you to fill out a screening questionnaire when you arrive at the office.
We ask that if you have a cell phone, call from your car in the parking lot and we will let you know when the dental room is ready for you. We want to eliminate time in the waiting room, as our office has limited space.
You may notice our surgically clean air purifiers, which boast six layers of air filtration including UV-C, and will be running at top speed in the waiting room and each dental room. You can learn more about them at www.surgicallycleanair.com.
We will take your temperature and ask you to do a hydrogen peroxide mouthrinse at the beginning of your appointment.
Our staff will also be screened, have their temperature taken, and use mouthwash every day. We will be wearing masks for your entire appointment, not just during treatment.
If an escort is necessary for your appointment, we may ask them to wait in the car or to come into the dental room with you. They will be required to fill out the same screening, have their temperature taken, and wear a mask. We will provide a mask if you do not have one.
We have hand sanitizer that we will ask you to use when you enter and exit the office. You will also find some in the reception area and other places in the office for you to use as needed.
We have implemented a "disinfection schedule." In addition to our normal disinfection protocol, we will be disinfecting common surfaces in our office, waiting room, and building, such as countertops, doorknobs, bathroom fixtures, railings, and building door handles. This will be done at least twice daily, and as needed.
Appointments will be managed to allow for social distancing between patients. That might mean that you

'

re offered fewer options for scheduling your appointment.
We will do our best to allow greater time between patients to reduce waiting times for you, as well as to reduce the number of patients in the reception area at any one time.
We are so looking forward to seeing you and are happy to answer any questions you may have about the steps we take to keep you safe in our practice. Thank you for your patience as we navigate these changes. We value your trust and loyalty and look forward to welcoming back our patients, neighbors and friends. As always, our goal is to make you smile.
Sincerely,
Dr. Mandy Stebbins and team

Dr. Mandy Stebbins and her dental team welcome you to our practice in beautiful Whitefish, MT. We are family-oriented dentists who put the needs of our patients first in all we do. From ensuring you are comfortable throughout your visit to working with you to develop treatment plans appropriate for your specific dental needs, and always emphasizing preventive behaviors, we are here for you.
Since we're a small practice, we form a team with each patient, and work together to achieve excellent oral health, which leads to a healthy body and mind, as well as a stunning smile.
Some of the dental services offered at Stebbins Dental Studio include:
At Stebbins Dental Studio, we treat each patient as a member of our family, and offer professional, compassionate, pain-free dental care with gentle hands and warm smiles. We have complimentary consultations for new patients at our Whitefish, MT dental practice, where we welcome patients from Kalispell, Columbia Falls, and throughout the Flathead Valley.
Please call our Whitefish dental office to schedule your consultation and allow us the honor of meeting you and discussing how we can help you reach your dental goals to create a healthy, beautiful smile.