We recognize that all our patients are unique and deserve to receive dental care that reflects their individual needs. Our experienced and talented dental team is committed to working with you and your family to create a comfortable, stress-free, and rewarding dental experience every time you visit our practice.
We are pleased to welcome you and your family, and we look forward to working with you.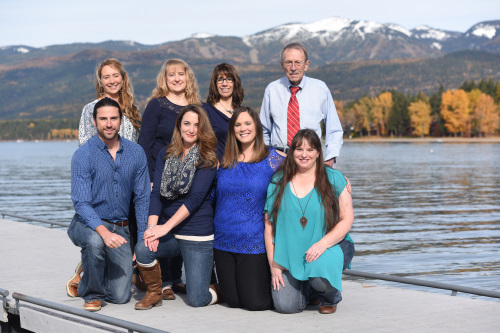 ---
Ellie
Dental Hygienist
Ellie was born and raised in Kalispell. After graduating from MSU Great Falls College of Technology dental hygiene school in 2004, she spent her first two years working in Montrose, Colorado. From there, she relocated to Billings, where she and her family resided for eight years. In 2014, she moved back to the wonderful Flathead Valley with her family (Fred, Peyton, and Katie). Ellie enjoys welcoming new patients into our office and getting them started on a pathway to great oral health in a gentle, caring, and thorough manner. She looks forward to maintaining a great working relationship with you for years to come.
Ellie recently won an award from the state dental hygiene association: http://www.whitefishpilot.com/article/20161026/ARTICLE/161029979
---
Megan
Dental Hygienist
Megan is a Montana girl, born and raised. She has worked in Dentistry for several years and went back to school for her Hygiene Degree. She moved to the Flathead Valley in 2018 and she started working with our office at that time.
---
Michele
Office Manager
Michele has been in the dental field for more than 20 years. She started out as a certified dental assistant, then became a practice manager for more than ten years. Michele has lots of experience with dental insurance, patient finances, and excellent customer service. She is glad to schedule your appointment and help with all your dental questions.
Michele moved to Montana in 2010 from the East Coast. Married to her husband Harry for 20 years, she has two boys, Tommy and Zachary. When she is not in the office, she and her husband are out snowshoeing, hiking, and simply enjoying all the beauty of Montana.
---
Carla
Dental Assistant
Besides assisting Dr. Stebbins chairside, Carla is our expert instrument sterilizer. Patients can usually find her taking X-rays and impressions, and always going the extra mile to ensure your visit is as comfortable as possible.
When she's not in the office, Carla enjoys catching up with her three grown children, as well as spending time with her four grandchildren and hanging out with family and friends. She recently became an American citizen, but don't worry; she can still translate for our Canadian patients, eh!
---
Linda
Dental Assistant
Linda loves being a chairside dental assistant! She is one of the most experienced dental assistants in the Flathead Valley, and can explain the ins and outs of any procedure. She appreciates our office's strong sense of community, and her passion for giving back carries over into our practice. Linda also performs laboratory work (models, wax-ups, and dentures), answers phones, and anything else that is needed. We love her flexibility!
Linda and her husband have a grown son and daughter-in-law, as well as the cutest grandsons in the world. She enjoys hunting, camping, riding on her ATV, and spending time with her family, church family, and friends.